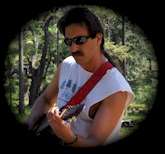 About Dan Litwin
Dan was born in California just in time to witness the peace movement of the 1960's. He believes that we should not throw out the 1960's baby (peace) with the bathwater (whatever you did in the 60's you now regret).
Veteran Rock Guitarist
Dan has been playing guitar since 1970. He grew up being influenced by the classic rock guitarists, who all contributed to his own styles of guitar playing and songwriting.
Libertarian Peace Activist
Dan has been a Libertarian Peace Activist since he first understood the concept that you should be free to do "Anything that's peaceful". His activism has included published writings, public appearances, and even running for Congress.
Peacemaker
Dan wants you to join him as a Peacemaker:
"Most of us on this earth are searching for the same peace, safety & security. But we can't find it by imposing political power over hundreds of millions (or even billions) of other real people.
"The Peacemaker goes the opposite way, curing the real disease of abused political power once and for all, by eliminating entire portions of Big Brother:
"More choices. More take-home pay. Less forms and requirements. More freedom. Safer cities. Higher standards of living. A simpler and far more peaceful life. The way it should and could be.